Why Typography is Important in Web Design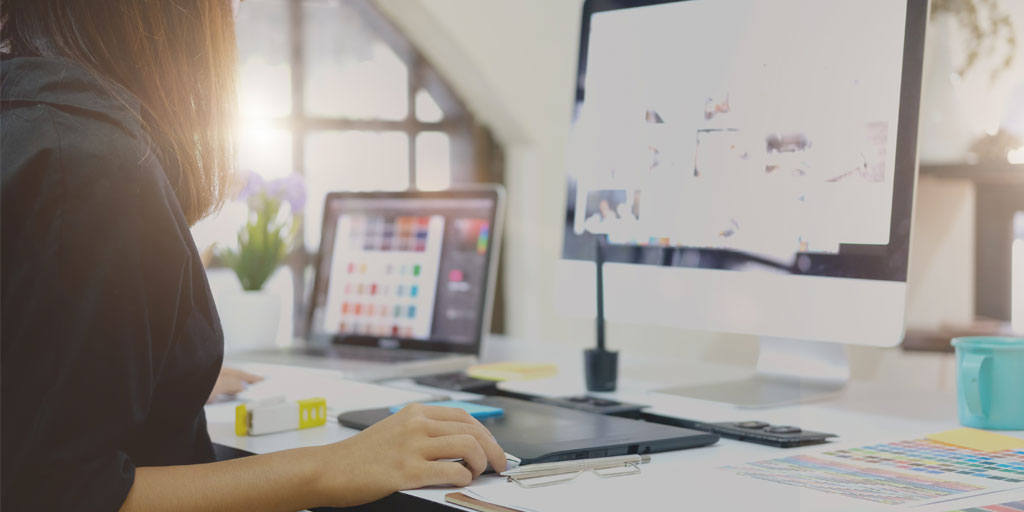 Content accounts for over 90 percent of a website's overall design. Yet, most people rarely consider how the content contributes to the look and feel of the site's layout. But make no mistake, content – more specifically, typography, plays a substantial role in web design, company branding, messaging and audience connection.
Lucid's solution to your typography, and graphic design needs, is unique in that we handle every aspect, all the way from brand development to customer conversion, with your bottom line as our top priority.
Typography has a way of triggering emotions much in the same way that a video, photo or digital graphic does. Why is it important to know this? Because emotions govern decision making, increase motivation and help define a company's brand and image. Therefore, messaging involves more than just selecting and organizing the right words. It also involves shaping, coloring and texturing each letter within a word so that it invokes the desired emotion or reaction.
4 Reasons Why You Should Choose Your Font Carefully
1. You Can Create Contrast
Like all other elements on your site, creating a delicate contrast with your font can make your layout more interesting and keep the viewer's eyes engaged. The contrast gives your site a more charming and sophisticated design, signaling to readers that you are creative, innovative and full of ideas.
Furthermore, elements in your content give you opportunities to experiment with different types of fonts. See what happens when you choose different fonts in different elements, such as:
Bullet points
Title
Subheadings
Call to action
Quotes
These and other elements allow you to get creative and try new fonts. If your paragraphs are keeping the design grounded, then balance the straightforward fonts with artistic fonts that are more reflective of your brand.
2. You Can Differentiate and Target Your Messages
When it comes to messaging, you are addressing your audience on various levels: emotional, executive, intellectual, logical and motivational. Your font can emulate the type of message that you are conveying and how you want your audience to feel. In addition, you can choose which types of font you use to prioritize your messaging.
The font in the main body of your content may not be the same font you use in your headings, subheadings, navigation/menus, call to action or side columns. Each main section can have its own font with a focus on the main content.
3. You Want Readers to Settle into the Content
When a visitor lands on your website, they are likely to have in an instant emotional reaction to the font based on:
Type
Color
Size
Spacing
Grouping
Will they flow from one sentence smoothly, or will their eyes squint and dart, second-guessing what they read? Consider these two examples:
Forbes magazine's font of choice is Georgia, size 13.5. In this sample article, notice how Forbes uses a font that is easy on the eyes, spaced appropriately and organized well. It does not feel cluttered. As such, it allows the reader to relax and enjoy reading the article.
2. Medium
What is striking about Medium's website is how well the site designer organized and grouped sections of words. Each thought or idea has its own space. Furthermore, the font, Lucida Grande, size 15, is clear and easy to scan from left to right.
4. You Can Create Consistency in Your Brand
The font is as important to your brand as any other element. Disney, Lego, Twitter, Apple, McDonald's and Harry Potter logos are all recognized by their distinct fonts, which play a dominant role in defining the brand.
Creating the right font on your website is also a key element in brand recognition. Therefore, you should choose your font based on your corporate identity and company culture. The perfect brand font should:
Communicate your personality
Work across all platforms and devices
Be legible to the most casual viewers
Be memorable and unique
While font styles such as Times New Roman, Comic Sans or Sans Serif Font may be safe or professional, they may not be memorable. Furthermore, they may not reflect your company's true identity.
Marketing Solutions for Your Business
At Lucid, we provide a wide range of marketing tools that help you expand your market reach while targeting the customers you want. We deliver measured results that reflect your brand and help you reach your goals. To find out more about our services, call us at 850-760-0478 or fill out the quick contact form below, and we will be in touch.
We'll perform a free analysis of your website for common technical SEO issues and optimization best practices.