How to Manage Customer Reviews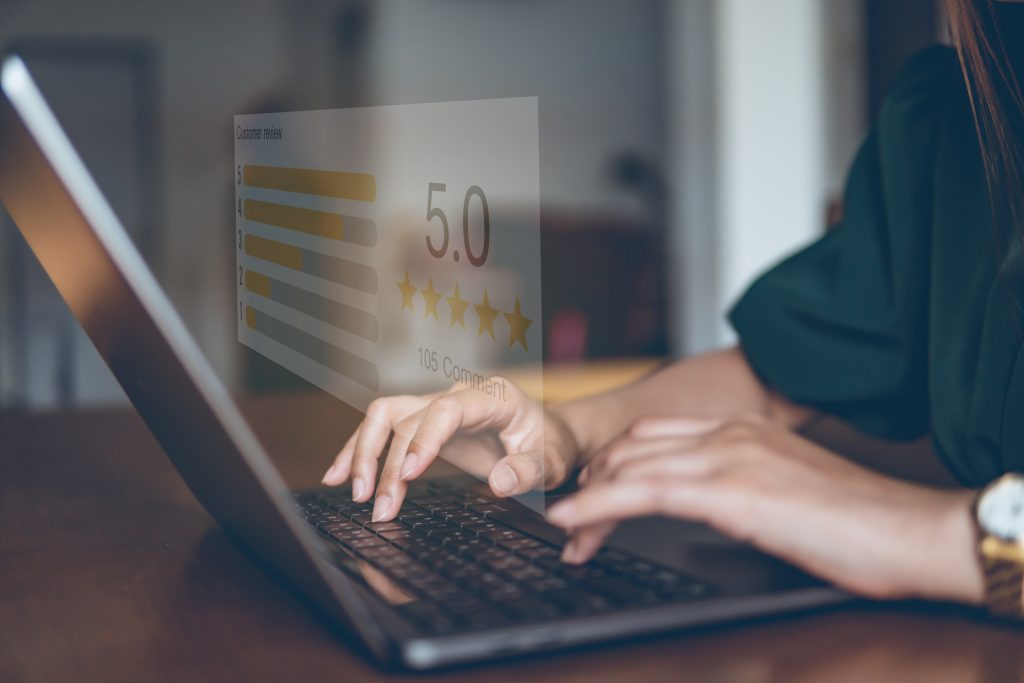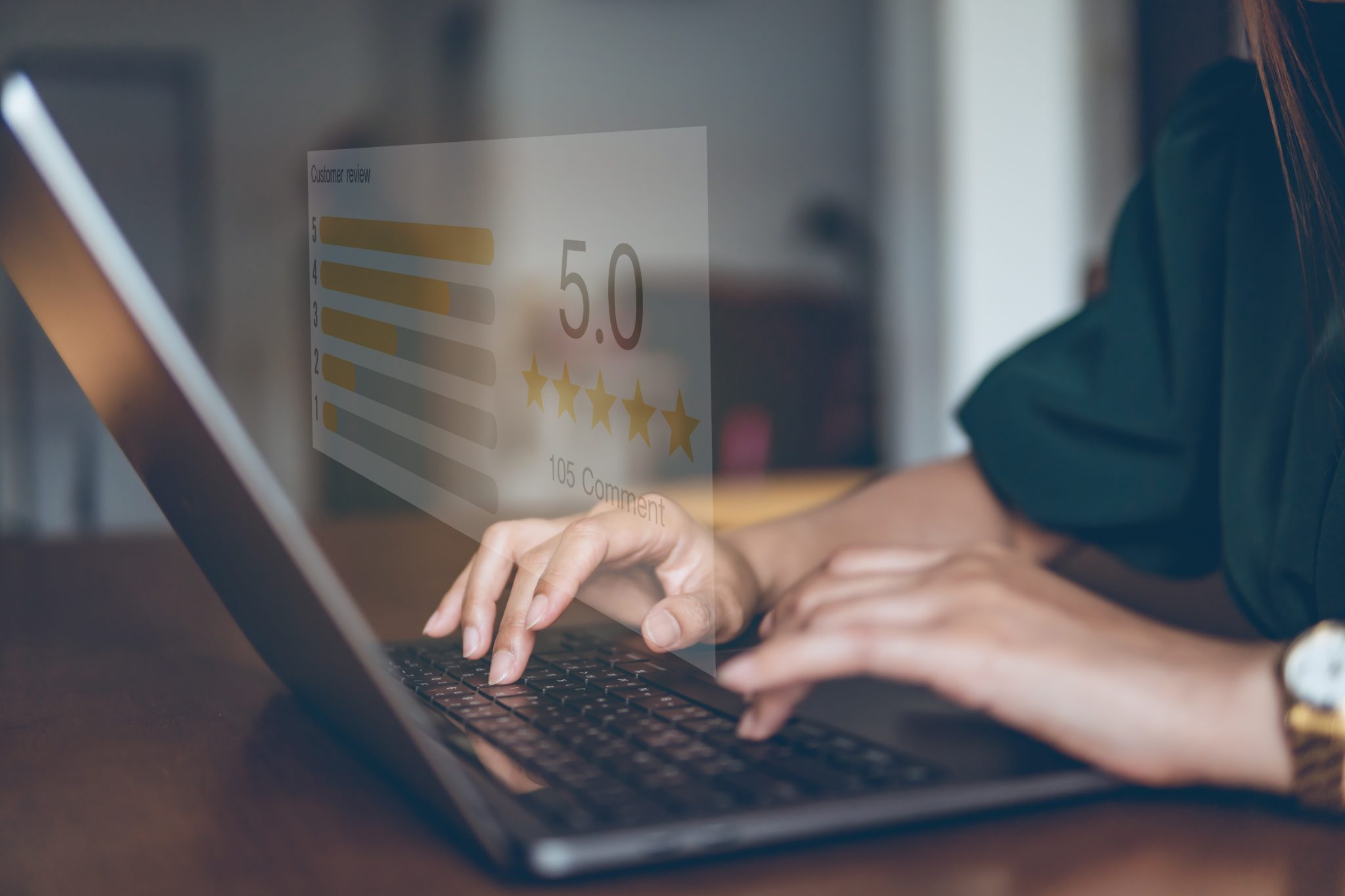 When we think of online customer reviews, we often defer to positive reviews brimming with praise and satisfaction with our products or services.
However, a review— whether positive or negative—provides valuable insights based on actual customer experience. The customer offers constructive practical feedback that potential customers can use to make informed decisions. You can also use it to improve the customer experience.
So, it's important to take all online customer reviews seriously. More importantly, you should use reviews as a key component in your social marketing advertising or digital marketing strategy.
"Customer reviews or testimonials are one of the most potent forms of social proof. So, if you display your best online reviews in the right places, you're likely to build consumer trust, attract more people to your business and enjoy a healthy level of commercial growth." – Dan Hughes
Four Effective Strategies for Managing Good Customer Reviews
Regardless of your industry, the cornerstone of your success is the relationship you build with your audience —whether they are potential leads or loyal customers. That relationship is self-evident in customer reviews. The relationship becomes one-sided and ultimately dies when you ignore online customer reviews and fail to address the reviewer's concerns.
Your customers want to be heard because they are stakeholders in your business. So, how do you nurture the relationship?
Listen to their feedback.
Respond accordingly.
Adjust your business practices based on feedback.
Continue providing opportunities for audience engagement.
This is known as customer review management. We touch on these concepts in previous articles:
Let's go a little deeper to discover how to manage good customer reviews. Learn to master these strategies:
1. Use Reviews as Social Proof
Perhaps the clearest definition of social proof comes from HubSpot writer Sophia Bernazzani:
"Social proof is the idea that consumers will adapt their behavior according to what other people are doing [or saying]."
How does that apply to customer reviews? Customers choose your brand or your competitors' brands based on customer feedback they read on your site.
According to a 2022 Online Customer Review Report from Review Trackers, 94% of consumers say a negative review has convinced them to avoid a business. The same report also revealed that review interaction has skyrocketed by 50% since the COVID-19 pandemic. Consumers are now:
Searching for more reviews.
Filtering more reviews.
Clicking to expand reviews.
Reading entire reviews.
The bottom line: Using customer reviews as social proof can be a major game-changer in the market's perception of your brand.
2. Post Online Customer Reviews Everywhere!
"Everywhere" may be a bit extreme. The point is that you should look for opportunities to post customer reviews on both traditional and digital marketing formats. More importantly, pursue marketing platforms that best align with the services you offer and your target audience:
Your website
Email campaigns
Better Business Bureau
Social media sites
Brochures
Customer review sites
Landing pages
Flyers
Google My Business
Remember: Customer reviews often pop up with or without your permission on sites you never knew existed. Make sure you explore reviews on customer review sites regularly—especially those related to your industry. Some sites where customers may review your business include
Amazon
Consumer Reports
Foursquare
Citysearch
Which?
TripAdvisor
The Yellow Pages
Yahoo! Local Listing
Angie's List
Yelp
Manta
TrustRadius
3. Place a Review Tab or Widget on Your Website
The review widget displays reviews on your business website to build consumer trust, drive conversions and impact SEO. Widgets can look like this: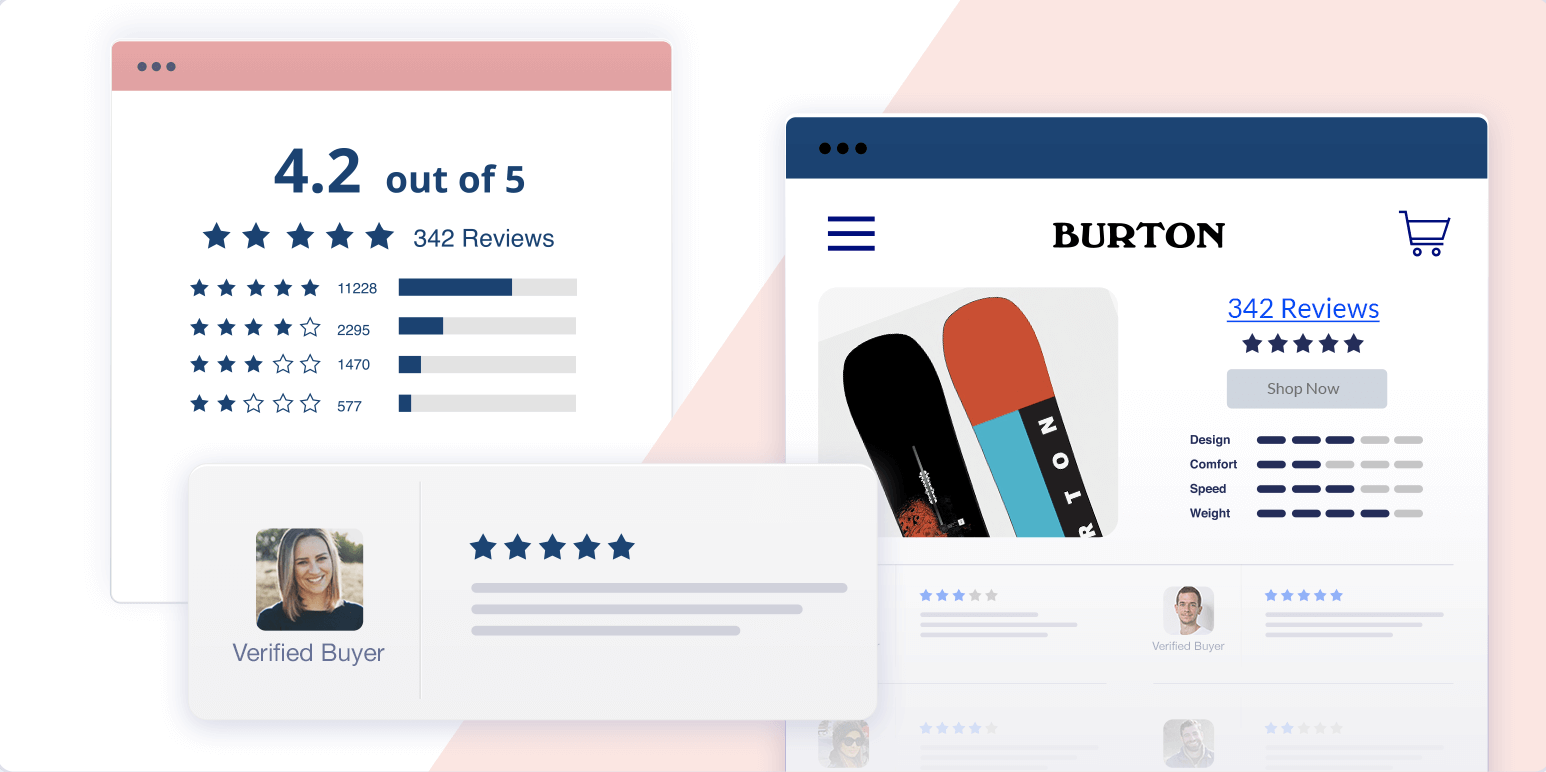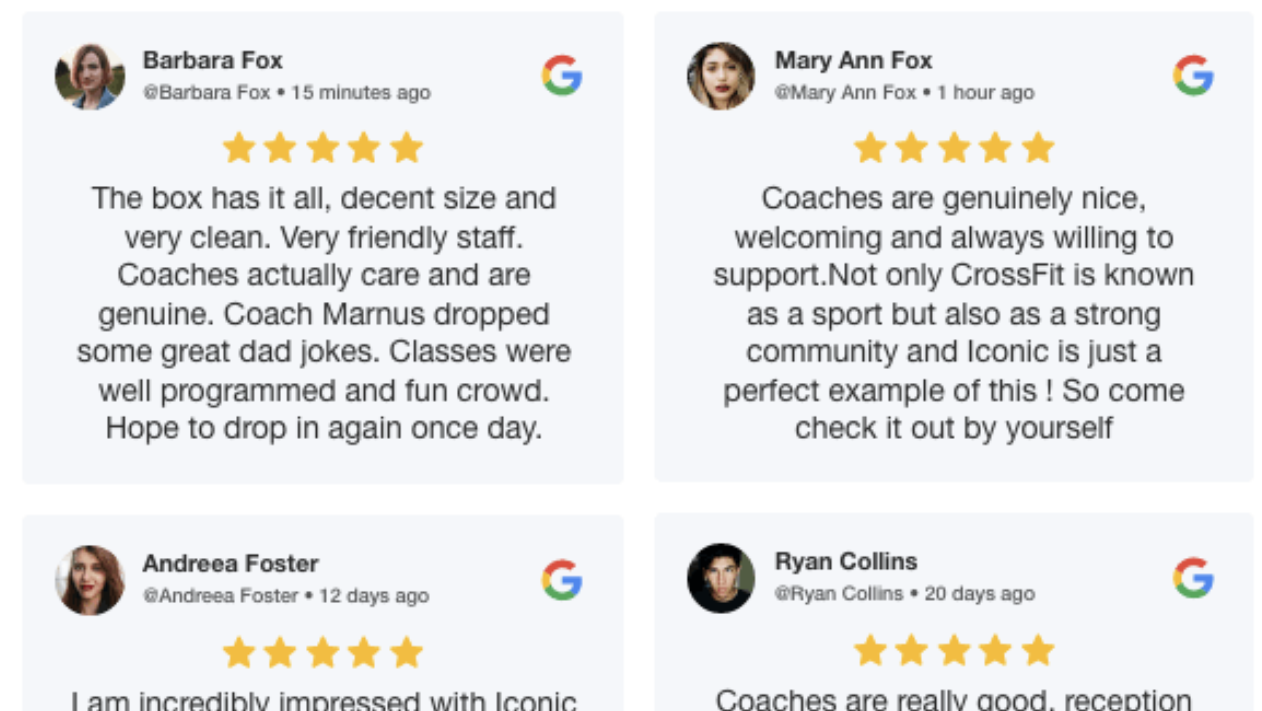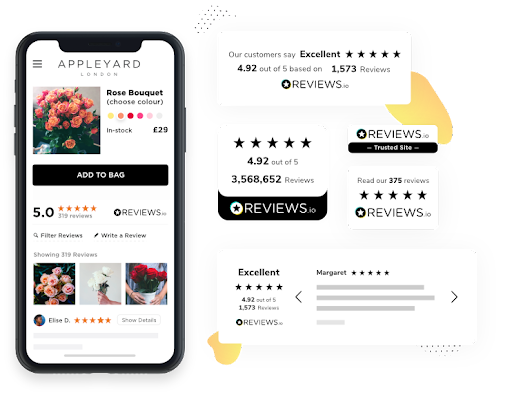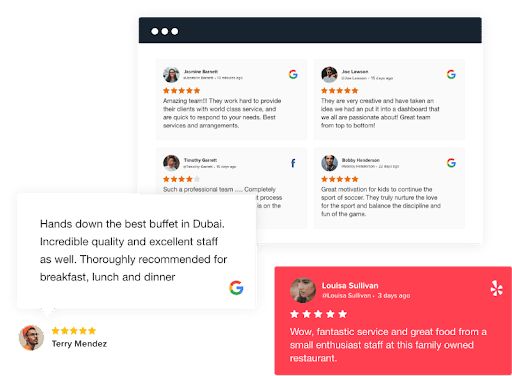 Widgets allow you to display relevant, glanceable customer reviews that immediately grab the reader's attention. Your digital marketing team can place widgets anywhere on your website and design them to fit in with the site's layout and accurately reflect your brand.
Plus, you can add animation to widgets. For instance, you can add a scrolling widget that rotates multiple customer reviews. You can also program widgets to pull reviews from other sites and update them to your website in real time.
4. Address Negative and Fake Reviews—Don't Ignore Them
"Believe it or not, earning perfect reviews isn't critical for your business. In fact, negative reviews can actually help your business in ways you may have never expected. If you've put all of your focus on avoiding negative reviews, you're going about reviews all wrong." – Neil Patel
Negative reviews are a hard pill to swallow. They can knock the wind out of your sails. They can be infuriating—especially the fake reviews or those that are little more than a rant. However, whether you like it or not, your business needs negative reviews. Here's why:
Customers can gauge worst-case scenarios associated with your business.
Too many positive reviews can appear to be fake or manipulated.
Negative reviews give you a chance to show that you care about your customers.
Negative reviews give you a chance to win back unsatisfied customers.
You gain insights into your target audience's limitations.
Most of all:
If your company never gets negative reviews, your company will never grow. Dissatisfied customers force you to take a hard, honest look at your organization, brand, products and services, processes, relevance, customer service and position in the market.
How to Tackle Negative Customer Reviews
Here are some quick tips on addressing negative customer reviews:
Address all negative reviews quickly​​—don't hesitate!
Sincerely thank the person for their feedback.
Attack the issue, not the person.
Apologize, empathize and sympathize.
Remain professional at all times.
Always strive to find a win-win solution.
Remember: Contrary to popular opinion, the customer is not always right. Many times they are wrong and unfair. However, on a public platform, your goal should be to maintain integrity and help the customer solve the issue so that you win ten more customers.
How to Tackle Fake Customer Reviews
There are numerous reasons people post fake reviews. Business competitors write negative fake reviews to persuade people not to purchase their rivals' products or services. For some people, a fake review is a way of getting back at your company for a bad experience. Some characteristics of fake reviews include:
Vague or generic information
Lack of detail about the actual problem
Too much use of "I" or "me" to fake sincerity
Too many reviews from the same person
Timing of the reviews
Extreme ratings or language
Fortunately, almost every review site or platform offers a process for flagging and reporting fake reviews. If you suspect a review is fake, you should report it immediately so the site can remove it.
Discover Lucid's Review Management Services
Managing your online customer reviews can be a time-consuming, complicated process. Lucid's review management services simplify the process and help you stay on top of customer reviews, which helps you build positive relationships and protect your brand. Learn more about our digital marketing services in Pensacola, Florida, by contacting us at 850-760-0478.
We'll perform a free analysis of your website for common technical SEO issues and optimization best practices.