New Ways to Use Facebook's Latest Feature
Facebook's newest addition is a must-have for those working in event marketing. Events Custom Audiences allows you to dig much deeper into previous event interactions as well as missed event opportunities to drive new and repeat business. Here's a step-by-step on this new resource.
Getting Started
The first step is to ensure your Ads Manager account is associated with a Facebook Page that has a current or past event listing. Next, click "Create Audience" under the Audiences tab, then select "Engagement" as shown below.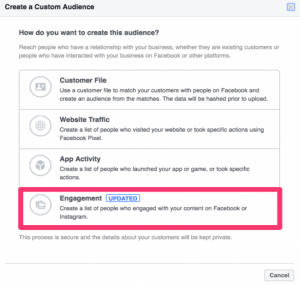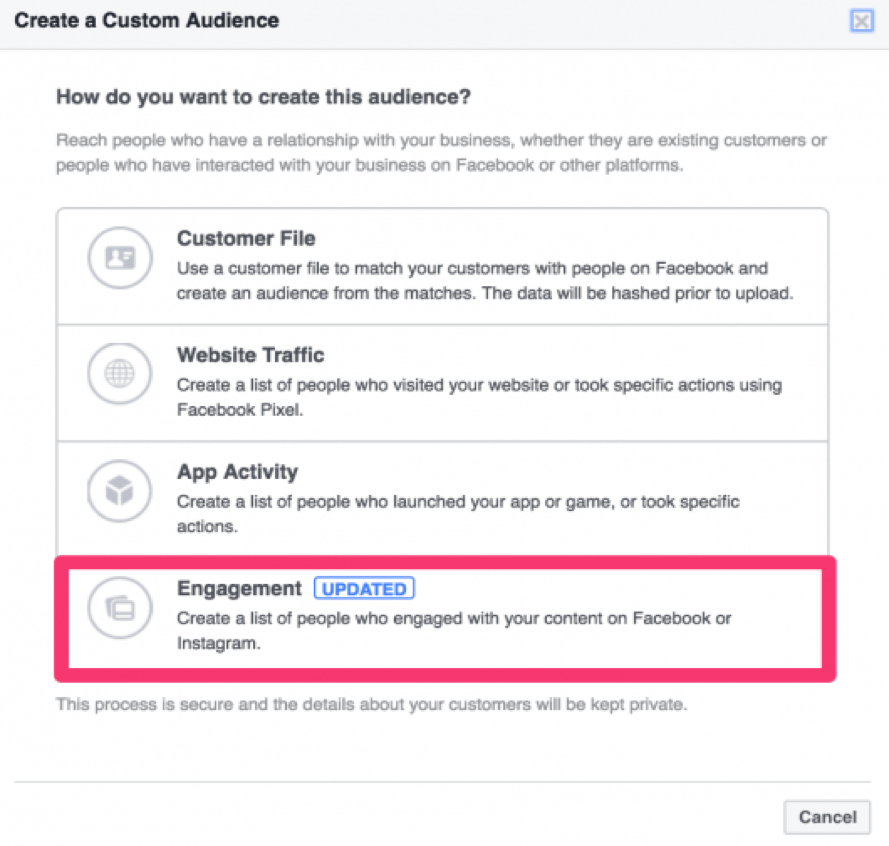 Next, you will be taken to "Create Custom Audience" which will give you some various options for customizing your event audience. You'll choose those whom have interacted with your events previously by indicating they were "interested" or "going" by selecting "Events," shown below.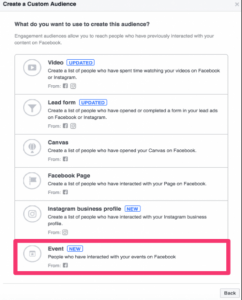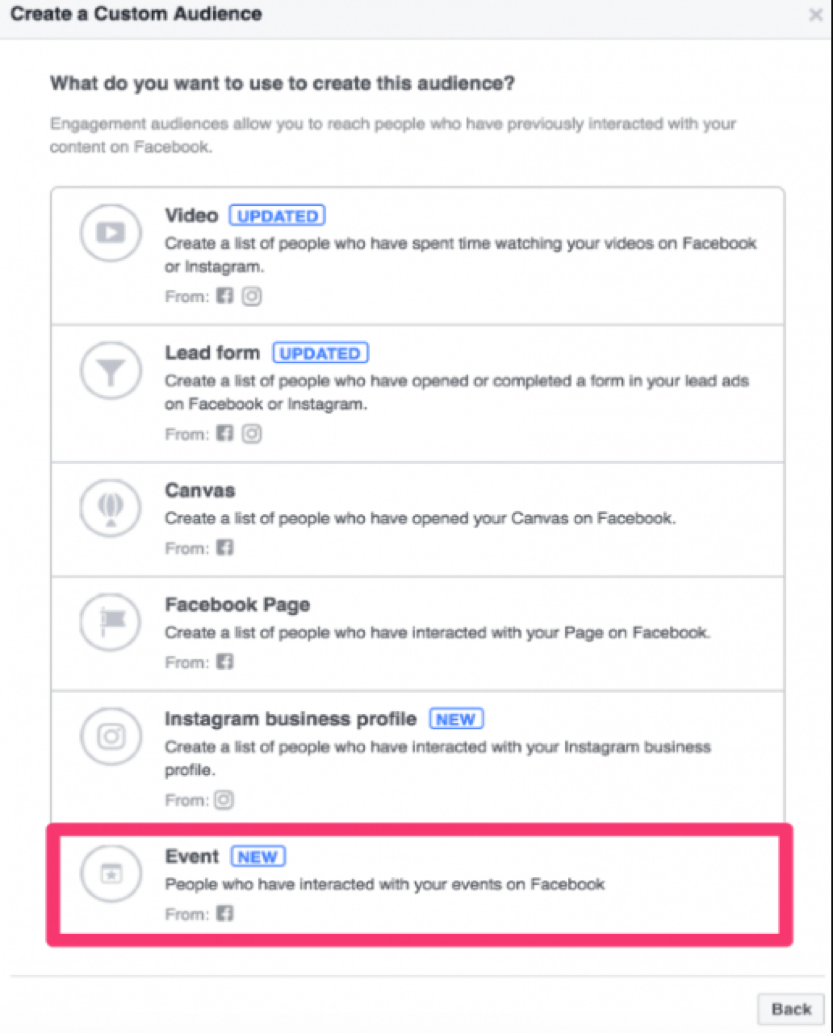 The next step will prompt you to select those who have responded "going," "interested" or indicating either for your audience. This useful step helps you capitalize on repeat business or missed opportunities when interest in an event didn't convert to actual attendance. Next, specify the day range for your selected audience, the associated Facebook page and the current or prior event you will be using for this new custom audience.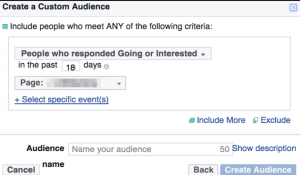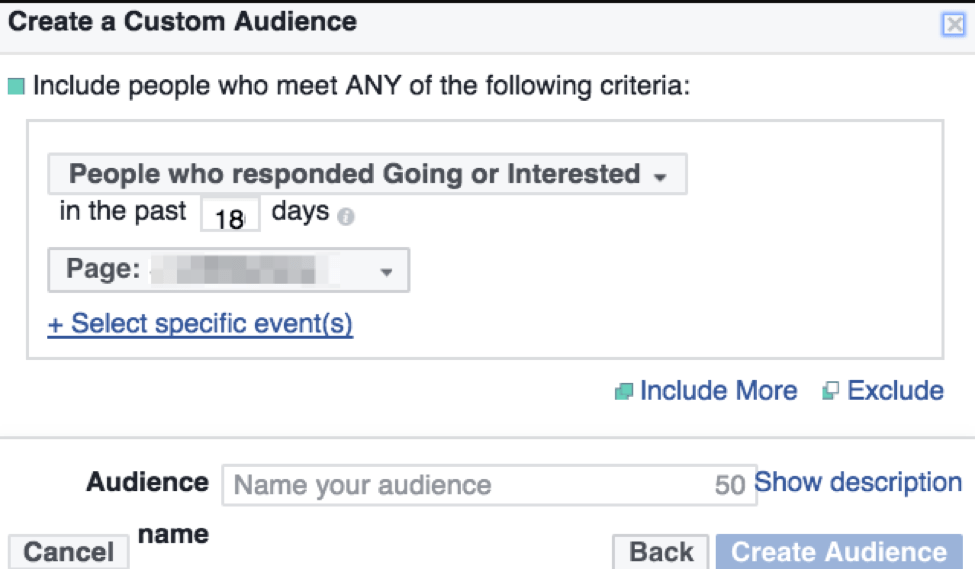 Finally, give this custom audience a name and description and click "Create Audience." Check back as it can take some time to generate.


Putting it to Use
Following are some unique ways to put this new tool to use.
Current Events
"Interested"
Most of your budget dollars will be utilized to drive new business. For audience members who have selected "interested" for an upcoming event, try these personal reach-out methods to push conversion rates.
    

"VIP": Let them know they are the first to secure tickets the day they are released.

    

Have a unique offering…speaker, topic, a local celebrity? Make the most of it by letting your audience know how stand-out this upcoming event will be.
"Going"
    

Upsell those who have indicated they are attending your event by offering a small discount to the follow up event.

    

Offer a referral perk for your attendee for bringing a friend (free raffle ticket entered into contest, free gift at door)
Double Dip: Use the following tip for those "interested" or "going":
Group Rates: Advertise a small discount for group ticket purchases. This can be a better move than individual discount rates as it brings in multiple customers, broadening your reach. Others will help you spread the word by "tagging" their friends.
Past Events
While the focus may be on new business, paying attention to past attendees can boost revenue as well.
    

Make past attendees aware of your events in different locations or different topics.  If they attended before, they will likely be interested again.

    

Message them to let them know you appreciate them coming. For recurrent events, give the new date details.
These are just a few ways to boost your Facebook presence and your sales for a relatively minimal marketing cost. Let the Lucid team know how your new Event Custom Audience is working for you!
We'll perform a free analysis of your website for common technical SEO issues and optimization best practices.